Fully-equipped automation solution to enable your business' growth.
Plan & Design your Network
GIS Interfacing
Check your network inventory, active and passive networks, and view your entire network in a graphical format. You have full control of your connection types; allowing you to easily add, edit and manage everything in the user interface.
GIS Tagging & Sharing
Create unique tags to add to any entity (location, device, package and more) and share with any other AgilityGIS user to seamlessly handle shared entities and their permissions between FNOs and ISPs.
Estimate Costs
Evaluate expected costs and revenue with detailed geographic representations with just a few clicks.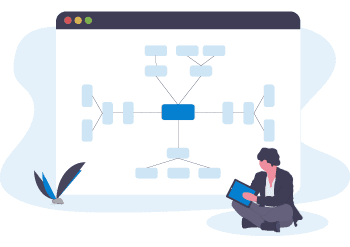 Develop Networks
By using comprehensive tools to map out, draw points, structures, workflows and more – developing a network has never been easier
Complete Visibility
Precisely design networks with GIS-based design tools and insights to leverage from.
Check Coverage
Potential clients can check if your services are available in their area. If not, the client can register interest or be offered other services from you. If your services are available to them, they can be routed straight to the order process.
Process Orders
AgilityGIS has a back-end process that orchestrates the processing and fulfilment of orders. Our system makes the applicable data visible to service providers so you can go from activation to installation in no time.
CHECK COVERAGE
Let leads check if your services are available in their area through a portal they can access online. Offer them additional services and add them to your leads.
TRACK LEADS
Collect CRM data and track leads as they progress through the sales pipeline. Build up a database of potential clients and utilise that to increase sales.
FULFIL ORDERS
Once an order has been placed, the entire fulfilment process is handled – from installation to activation and billing.
Customer Support
Our Ticketing and customer support functionality allows you to resolve customer issues as soon as they arise and keep your customers satisfied. Communication, tasks and faults can all be handled via the ticketing system to internal or external contributors.
Status Monitoring
Keep up to date with any faults, failures, equipment status and more to ensure your service and infrastructure keeps running smoothly. View all the data in a customisable dashboard and prioritise what data is important to you.
REVIEW HISTORY
Every client has extensive data collected as they progress from lead to customer. The entire history of interaction can be reviewed for each client – enabling personalised and accurate communication for better relationships.
UTILISE TICKETING
Queries, issues and communications are managed in a ticketing system that allows you to keep tabs on customers and resolve issues with speed and ease.
KEEP CLIENTS HAPPY
With the efficiency of the ticketing system and the client history, you can establish and maintain a good relationship with customers to keep them coming back for more.
Create Billing Plans
Customise how you want to charge for different products, packages and bundles. Additionally, you can adjust the billing plan for selected products as well as manage recurring or non-recurring charges in your billing plan.
Invoicing & Payments
Effortlessly generate and send invoices to your clients with our accounting and billing module. Our billing module also allows you to collect payments from clients with our integration with third-party providers.
RECURRING INVOICES
Set up recurring invoices to send to clients. You can specify the interval, whether it is pre/postpaid and the specific day of the month that the invoice is due. 
DEBIT ORDER COLLECTION
Debit orders can be collected automatically by our smart debit order collection functionality that forms part of the billing and accounting module. 
TRANSACTION HISTORY
View transaction history for individual clients as well as a summary of transactions over a date range. Filter and sort transactions based on status, type, amount and more. 
LOCATIONS
AGIS is entity driven, you can create any location as an entity to be consumed for planning purposes and tag and share with
various collaborators.
MAP VIEW
Visually display your locations on an interactive map where you can filter and choose what you want to see. You can also stitch together 3rd party operator networks in no time.
KMZ/KML SUPPORT
AGIS supports KMZ and KML and allows you to import any network created in Google Maps via our bulk import tool.
Dynamic Dashboarding
Create customised dashboards based on metrics that are important to you and your business and view it as real-time data.
In-depth Reporting
Pull reports on any entity created in any module. This allows for full-transparency and enables you to keep track of everything in your business.
Like what you see? Contact us today for a FREE demo.